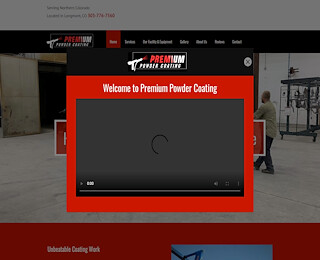 When it comes to powder coating large parts, most coating facilities lack the space; however, there is one place in Colorado that has a facility for specialized coating products, including large parts and equipment. Premium Powder Coating can handle just about any project you send our way. With pick-up and delivery service, you'll find that our services are extremely convenient. Buy powder coating online and we'll come to your location and pick up your items, powder coat them with our process, and deliver them in a timely fashion when you choose us for a high-quality powder coat.
3 Compelling Reasons To Choose Us For Powder Coating Large Parts
1. You won't have to disassemble your equipment or machinery any more than is necessary just to get products to fit in our powder coating facility. Read about our facility's capabilities online- we've built a cutting-edge facility designed just for coating projects and remain the largest powder coating facility in Colorado.
We're completely gated with a drive-through loading zone for quick and convenient projects. After checking in at our front office, you'll be given authority to drive through our shop and unload. Three forklifts and a 10-ton bridge crane are available for loading & unloading parts; smaller crane systems make hanging parts on coating racks a simple task.
2. Shop powder coating colors in virtually unlimited options for a custom-tailored project with a visual appeal. If you've spoken with another coating company only to find that their color options are narrow, we encourage you to discuss your custom project with our team to see how we can guarantee your total satisfaction with the final results. We can also offer a custom color powder coating match so that colors don't conflict with pre-existing project items.
3. At Premium Powder Coating, we can offer in-house media blasting to prepare your parts for coating. Our large blast rooms and blast cabinets have been uniquely designed to reclaim blasting medium to be recycled and reused. Powder coating large parts in our facility starts with a professional parts blasting process that leaves your items exceptionally smooth and ready for a quality coat.
Free Resources
We invite you to watch out 30-second video explaining our premium powder coating process. Feel free to check out additional resources on our site, such as our photo gallery of past projects, customer reviews, and information about our company and our commitment to your project. When you're ready, give us a call with information about your project and we'll spend some time with you answering questions and providing more information.
To request a free estimate for powder coating large parts, make a call to PPC at 303-776-7560. We know how difficult it can be to transport large parts to a powder coating facility, therefore, we've simplified the process by providing pick-up and delivery. Find out if your location is within our service range when you call or send us a message. Our large part coating oven measures 12' x 12' x 35', large enough for nearly any project.
Premium Powder Coating
+1 303-776-7560
1850 Lefthand Circle
Longmont CO 80501 US